Details:
MorinSan®
Moringa Leaf Powder
Indias ancient tradition of ayurveda says the leaves of the Moringa tree prevent 300 diseases.The ayurvedic medicine of India has many uses for Moringa tree products, such as a natural antibiotic, an aid in childbirth, for treating liver disorders, in tea as a powerful cold remedy among others. It has been shown that 25 grams daily of Moringa Leaf Powder will provide you with the following recommended daily allowances: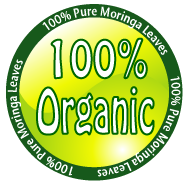 Protein 42%,

Calcium 125%,

Magnesium 61%,

Potassium 41%,

Iron 71%,

Vitamin A 272%,

Vitamin C 22%.
Mixed with honey and followed by a drink of coconut milk 2 or 3 times a day, leaves are used as a remedy for diarrhea, dysentery and colitis.*
Ingredients: Moringa leaf powder
Suggested Use: Use ½ to 1 teaspoon a day mix with 8oz of pure water or juice of your preference or as directed by your health care professional.
*These statements have not been evaluated by the Food & Drug Administration. This product is not in tented to diagnose, treat, cure, or prevent any disease. Be sure to check with your health care professional before taking any dietary supplement
Current Reviews: 0
This product was added to our catalog on Monday 18 February, 2013.